Austria
The 5th Graz Biennial on Media and Architecture will be held on 7-11 November 2001. If you can't make it to Graz, you are invited to take part in the Biennal-Layers program, a "virtual lab" that links the Biennial's events to the larger Web community.
Sigi Reich reminds us of the upcoming Ars Electronica Festival in Linz, Austria. For everyone who cannot participate in this year's festival, but who might drop by Linz another time, he recommends the continuing exhibition at the Linz "Museum Of The Future".
Denmark
NIC2001, a new Nordic conference about the future of digital interactive technology, will be held in Copenhagen from 31 October - 3 November 2001. The conference features an expo and an art gallery. Conference language: English. Online registration.
Liz Klastrup offers a Gallery of pictures from Hypertext '01. In her Web log, she writes that
Stuart Moulthrop and his partner Nancy Kaplan stopped by for coffee today, visiting Copenhagen on the way home to the US. Stuart's experience of the conference is that the "aesthetics", lit theory people have gradually taken over more and more space at the conference. My own personal experience was that there seemed to be a lot of systems and software development people around, but then again, this is admittedly my first conference out of the Humanistic realm. And it was fun to meet systems development people who only dreamt of collaborating with authors as to develop their systems most adequately. This truly seems like a win-win situation to me!
Susana Pajares Tosca sends word of an intriguing program on Computer Games and Digital Textualities at a Copenhagen conference March 1-2, 2001. Of special interest are Tosca's detailed reading of Vampire: The Masquerade and Raine Koskimaa's New Wave of Web Fiction, which explores recent Web work by M. D. Coverly and Michael Joyce.
Aalborg's Peter Nuernberg is visiting Eastgate for experiments in getting Eastgate's "Hampshire" back-end (the foundation for new-technology Storyspace) talking to Construct, a research tool for managing relationships between hypertext systems.
Polle Zellweger, best known to the hypertext world for her work on fluid links and for the definitive paper on hypertext paths, will be a visiting professor at Aarhus University next year, together with Jock Mackinlay.
Lisbeth Klastrup has completed a thesis on A study of interactive reading and readership in hyperfiction . She writes, "The IT-University at which I carried out my PhD research is now looking for associate professors and external lecturers for our"Design, Communication and Media" programme.
We are looking for scholars working within the fields of visual and text-based communication and art; media studies; cultural studies; graphical design; interaction design; philosophy of technology; usability of digital media; computer-supported work; digital aestethics; virtual communities; digital fictions and simulations; hypermedia and multimedia-based communication; digital design; design history; and multimedia learning. The IT-University is a new institution, less than a year old and interested in attracting academics from all over the world who are interested in founding a cutting-edge research environment." Four associate professorships and a number of lectureships are available. For further information, please contact Mads Tofte, President of the IT University (telephone +45 3816 8812, e-mail: tofte@itu.dk) or John Paulin Hansen, Associate Professor, Ph.D., (phone +45 3816 8825, e-mail: paulin@itu.dk).
Kaliber1000 is a high-design Web periodical with a fondness for intricate, animated montage. Lots of intriguing snippets of technique, though few of their workers seem much interested in narrative.
People interested in artifactual hypertext will be intrigued by Kaliber1000's exhibition of computer desktops, culled from leading designers. What's on your Powerbook?
Finland
Raine Koskimaa's PhD thesis, Digital literature. From text to hypertext and beyond, is now available online. Congratulations, Raine!
The latest issue of the Finnish journal Parnasso is devoted to cybertext, hypertext, and new media. Edited by Markku Eskelinen and Raine Koskimaa, the issue boasts a distinguished panel of contributors, including Espen Aarseth, Jim Rosenberg, Brian McHale, Eduardo Kac, Italo Calvino, Sherry Turkle, John Cayley, Gonzalo Frasca, Aki Jârvinen, Nancy Kaplan, and Stuart Moulthrop, as well as articles and interviews by the editors. To those who caught William Gass's recent polemic against digital media in Harper's: McHale's article makes prominent mention of Gass's 1968 short story, "In the Heart of the Heart of the Country," as emblematic of certain aspects of digital textualities to come.In Finnish
France
Karen O'Rourke will present Paris Reseau in a debate, Tracer la ville en numerique, to be held in Montreuil on 7 June 2002.
Andrew Gallix writes that the Sorbonne University in Paris is holding a conference on new forms of fiction on the Internet from 15-16 March 2002. The official language of the conference is English.
Marlene Mallicoat writes that on March 3, hypertext guru and pioneer Ted Nelson was made Officier in the Ordre des Artes et Lettres, an honorary chivalric order whose membership is bestowed by the government of France. Since 1957, the Order of Arts and Letters has been presented to individuals achieving distinction in the arts and literature throughout the world. (Nelson was specially honored by entering the order at the second level of Officier, whereas most honorees begin at the first rank of Chevalier.) Hailing Nelson as a "poet and philosopher," French Minister of Culture Catherine Tasca presented him with the title and a medal. Congratulations, Ted!
France Culture the French state-owned radio that specilizes on cultural matters, has an on-line "Magazine Culturel" which contains comments on electronic publishing in French. Thanks, Rigas Arvanitis!
Pierre Bézier, the automotive designer who invented Bezier curves, died November 25, 1999. He was 89. Thanks MacNN.
A new hypertext in progress is Edward Amiga by Frederica Michot. In French, requires MSIE 4
DOC(K)S, a French literary journal, is seeking submissions for a special CD-ROM issue, to appear in conjunction with the first Aix-en-Provence Contemporary Art Meeting.
Germany
The Edith Russ Site for Media Art will award three 6-month work stipends for the year 2002. International artists who work with new media may apply. Each stipend is DM 20,000. There are no residency requirements. The stipends have been made possible through a grant by the Niedersachsen Foundation. An international jury will choose the awards in March 2002. Application deadline: 15 February 2002.
Joerg Haake writes: "I have accepted an offer for a tenured full professorship at the FernUniversitaet Hagen (the German Distance Learning University). There, I will teach and do research in hypermedia-based collaborative systems and e-learning." Congratulations, Joerg!
Congratulations to Dr. Anja Rau on the publication of her intriguing dissertation, What you click is what you get: Die Stellung von Autoren und Lesern in interaktiver digitaler Literatur, now available from dissertation.de on paper and as an ebook.
Jeanette Winterson recommends Flirtboat. It appears to be a chat room/multi-user dungeon-style environment modeled on The Love Boat. Winterson called it "seriously barmy". In German.
The European Media Arts Festival 2001 will take place in Osnabrueck, Germany from 21-25 April 2001. The exhibition will feature interactive installations by Thomas Bartel, Jordan Crandall, Christoph Draeger, Reynold Reynolds, Harun Farocki, Rotraut Pape, Gretchen Schiller, Susan Kozel, and Mari Velonaki.
The next meeting of p0es1s. poetics of digital text will be held on 28-29 September 2001, at the University of Erfurt, Germany. The symposium will explore and discuss the achievements and functions of texts that are specifically designed for digital media. Speakers will include Eastgate's chief scientist Mark Bernstein, Mark Amerika, Florian Cramer, John Cayley, Karin Wenz and Eduardo Kac.
Anja Rau's essay, "Patchwork Girl und Action-Heldin: Frauenbilder in digitalen Literatur," has been published in Frauen in Kultur und Gesellschaft, edited by Renate von Bardeleben. Congratulations, Anja!
p0es1s, an international exhibition of digital poetry, opened on 6 October and runs until 5 November 2000 in Kassel, Germany. Includes work by Eduardo Kac, Judd Morrissey and Lori Talley, and Jim Rosenberg.
A new article on net-lit by Sabrina Ortmann: "Literatur im Netz: Engagiert und idealistisch." In German.
Christiane Heibach's dissertation on net.literature is now available. In German.
The summer newsletter of dichtung-digital is now available. Contributions explore the recent InterSzene symposium on Theatricality and Orality in the Internet, with notes from Beat Suter, Guido Graf, Roberto Simanowski, and Christiane Heibach among many others. in German and English
INTERFACE 5 - Die Politik der Maschine: an international symposium with workshops and exhibition, will be held in Hamburg, 7th of Sept. to the 14th of October.
Karin Wenz (University of Kassel) reports on interesting empirical research on Patterns of Hypertext and Their Impact On Reading Activities.
"Following Mark Bernstein's taxonomy of patterns of hypertext, I will investigate their specific influence on the user's actions and reader's experiences reading a printed version and a multimedia HTML-hypertext version of the same text. "
The p0es1s digital art exhibit opened in Munich on May 26. Among the works featured in the exhibit are True North by Stephanie Strickland, A Life Set for Two by Robert Kendall, and My Name Is Captain, Captain, by Judd Morrissey and Lori Talley.
If you don't catch her in NYC in April, Eastgate editor and author Diane Greco will be speaking on electronic literature and publishing at elektroLit, a conference sponsored by the Literarisches Colloquium, to be held this June 15-17 in Berlin.
Anja Rau has a fantastic new job at Blue Mars Interactive, a full-service multimedia agency located in Frankfurt/Main. Anja writes, "I've been here for almost 2 months and I still enjoy it. Quite different from working for the university, but I guess it was time for a change." Congratulations, Anja!
Heiko Idensen sends word from Hannover of two intriguing hypermedia CD projects, konfigurationen and hyperfiction. In German
Roberto Simanowski publishes a very intriguing Web journal of hypertext criticism and theory, Dichtung Digital. Articles by Anja Rau, Karin Wenz, Christiane Heibach, Susana Pajares Tosca. Primarily in German. Some sections and a newsletter are also published in English
Netzliteratur is planning to created an email collage on the subject of the solar eclipse coming up on August 11. "The descriptions of observations and experiences of this day are just as welcome as momentos, memories, documents, or any individually artistically-formed texts." Contributions in German, English, and other languages.
Hypertext critics Anja Rau and Nadja Gernalzick (University of Mainz) have published an interesting trip report on Hypertext '99 in Amerikastudien, the journal of the German Society for American Studies.
More news from Hypertext '99: the June issue of Especulo carries an illustrated trip report by Susana Pajares Tosca. In Spanish and English. Also, Tosca interviews Mark Bernstein in an article titled "Between Art and Science." Also published in Spanish.
Holland
Carolien van den Bos has completed her thesis on hyperfiction. In Dutch.
Ireland
What's all the Hype in Hypertext About? A Humanities Computing Colloquium will be held on March 10-11, 2000 at University College Dublin, Ireland. This colloquium will examine how newer technologies are changing humanities teaching and research. Invited speakers will examine the theoretical, pedagogical and interpretative dimensions, challenges, opportunities, and limitations of this multi- disciplinary genre. The colloquium is designed for those with little experience of humanities computing as well as those already working with digital technology. The keynote speaker is Jerome McGann. Further details, including registration, are available at the colloquium's website. Thanks, Matt Kirschenbaum!
Italy
The international exhibition, "The Art Tribes," which begins on 11 September at the Galleria Comunale d'Arte Moderna di Roma, includes a technopoetry section comprised of video, CD and Web poetry from over 40 artists, curated by Caterina Davinio and karenin.it
Gonzalo Frasca's thesis, Videogames of the Oppressed is now online. Frasca uses video games as a lens for thinking critically about representation in digital media. Thanks, Gonzalo!
Lorenzo Miglioli sends word of a home page on the early Italian hypertext novel, Radio, as well as more recent projects. In Italian
This month, the Libera Universit… di Lingue e Comuncazione IULM and the Universit… degli Studi di Pavia will host day-long roundtable sessions on the craft and teaching of hypertext, featuring Bob Arellano, Carolyn Guyer, Shelley Jackson, Michael Joyce, and Massimo Riva. The roundtables will take place on 19 October in Milan, and on 20 October in Pavia. For details, contact Paolo Ferri and Elena Grossi. Grazie mille, Paolo and Elena!
Some medieval churches were constructed with a special arrangement for detecting local noon: a small hole in the dome or cupola serves as a pinholve camera, projecting the image of the noontime sun on an inscription inside the building. Mark Gingrich presents pictures from these ancient observatories during the recent solar eclipse; an interesting intersection of time, architecture, nature, and technology. Thanks TBTF!
Antonella Ghignoli has written an interesting phililogical hypertext about the interpretation of Codex Diplomatico Longobardo 206. David Kolb (author of Socrates in the Labyrinth) writes that "The argument involves many sources, investigation of manuscript handwriting, discussion of alternate views, and a hypothesis about how the words might have got into their present form." Philology is a natural match for hypertext. In Italian.
Karenin@ is a new Italian review of avant-garde Links and Books. In Italian
ARTV features a special issue on the Venice Biennial. In French and English.
A new hypertext Web magazine, in Italian: Labirinti Ipertestuali.
Macedonia
The Skopje Electronic Arts Fair (Macedonia) promises to be the first media art manifestation in the Balkans. Proposals for works to be exhibited, or for lectures at the October 1-4, 1999 symposium, are now being sought.
Netherlands
Timothee Ingen-Housz's Elephant's Memory is an intricate, synthetic pictographic language capable of saying things like "I'm so glad you are pregnant!" or "Do you hear the frog shout?". (See also , In Search of Pictorial Language, by the same author)
From Isabelle Chemin, two new electronic poems, Incertitudes and Creation04. In French.
Two Single Squares is a clever minimalist narrative, in Flash, by Ellen Pronk.
Papers from the 8th WWW Conference (April 1999, Toronto) are now available on the Web. An email announcement list for WWW9 (Amsterdam, May 15-19, 2000) is now available.
Much interest at the Cybermountain Hypertext Writers Workshop was drawn to Robert Kendall (California) and Jean-Hughes Rety's (Netherlands) work on dynamic links for the Web. The Connection Project uses javascript to let Web authors make link behavior depend on what the reader has already seen, a technique many experienced hypertext writers find indispensable.
Norway
Jill Walker is a special guest on -empyre-, a mailing list devoted to media arts practice, moderated by Melinda Rackham.
Congratulations to Andrew Morrison, who has just completed his doctoral thesis on hypertext at the University of Norway!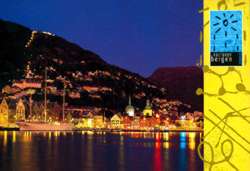 A postcard from Norway:Tosca and Tosca-ko report on DAC 2000. Hypertext Kitchen introduces a new Features section.
The advance program for this summer's Digital Arts and Culture conference in Bergen is now available. A vast range of interesting papers and panelists; participants include Stephanie Strickland, Stuart Moulthrop, Diane Greco, Mark Amerika, Frank Ricardo, Jay David Bolter, Adrian Miles, Susana Pajares Tosca, Jill Walker, and many more.
Norwegian science fiction author Tor Âge Bringsvoerd created a 1971 "print hypertext", "Faen. Nâ har de senket takhøyden igjen. Må huske å kjøpe nye knebeskyttere." It's now been adapted for the Web by Kunstnett Norge; Jill Walker describes it as "a dystopic loose leaf dictionary-style short story".
Poland
Mariusz Pisarski sends word of a watershed: Liternet, the first conference in Poland on the Internet, new media, blogs and hypertext was held in Cracow earlier this month. A book of the proceedings will be published in September.
Russia
The recent fire in Moscow's television tower has left Moscow without television for the past week -- perhaps the first time a major city has gone without TV entirely for such a long period since 1960. An interesting social experiment!
Russian art group Dragon's Springs announces Project Atriumatics, a new website "devoted to the meta-code and meta-linguistic researches of art group Dragon's Springs, and new conceptions in contemporary art and culture (e.g. new conceptions of hypertext)." Thanks, Sergey de Rocambol!
Slovakia
Milos Kravcik announces a course on Hypermedia Systems at the Faculty of Mathematics and Physics, Comenius University, Bratislava. Thanks, Milos Kravcik!
Spain
Artists in Madrid are invited to use the computing and telecommunications resources of Medialab Madrid. Hardware includes Mac and PC workstations with peripherals (disc scanner, printer, zip, CD-R, and a plotter) and a digital camera. Software includes Windows 2000, Mac Land Connect Windows 2000, Adobe Photoshop 6.0, Adobe Premier 6.0, Macromedia Freehand 10 and Director 8.5, Flash 5.0, and 3D Studio Max. Human resources include technical help for hardware and software issues. If you are interested, please visit the Web site and download the application form. In Spanish.
A workshop on Art, Art Criticism, Computing Science and Adaptive Hypermedia will be held in conjunction with the 2nd International Conference on Adaptive Hypermedia to be held from 29-31 May 2002 in Malaga, Spain. Topics include: adaptive music, artistic experiments with adaptive hypermedia, hypertext literature, computing models for adaptivity, adaptive hypertext systems and authoring tools for artistic applications. Authors are invited to submit extended abstracts (2 pages) in PostScript (preferred), PDF or RTF format by e-mail. Workshop organizers are Licia Calvi and Jean-Hugues Réty. Deadline: 12 April.
Susana Pajares Tosca delivered the keynote lecture at the annual meeting of ASETEL, the Spanish association of professors of literature, criticism, and philology, in Zaragoza (Spain). Her talk was called "Great Expectations: Promises and Reality of Digital Literature," and the conference focused on literature and technology.
Professor Jose Luis Orihuela Colliva invites visitors to explore hyperfiction class projects completed in a course on non-linear narrative that he taught recently at the University of Navarra (Pamplona). In Spanish.
Susana Pajares Tosca sends word of a new project, EU-Train, a collaborative web-novel by European teachers and students that explores Europe's diverse cultures and heritages. Susana is the project's hypertext consultant. The project is sponsored by the European Union.
Jose Luis Orihuela Colliva invites readers to RIC - Ficcion Interactiva. Inbound links are welcome.
Just released: updates to Especulo and Hipertulia. The latter includes an article by José Luis Orihuela about Marjorie Luesebrink's Califia (forthcoming soon from Eastgate), which is linked to an interview with the author. In Spanish and English.Thanks, Susana Pajares Tosca!
Susana Pajares Tosca writes: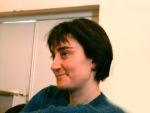 I'm in my last two weeks in Oxford and as the fog raises from the Thames I already feel like going back to dry Madrid, to settle down a bit for some time and finish the doctoral dissertation. How many times have I said that? The problem is always, interesting things keep getting on the way... I've had a great time in England.

Literatura Interactiva is a survey of hypertext fiction in practice and theory by Orlando Carreño, Universitat Pompeu Fabra. Also in Spanish and Catalan.
Susana Pajares Tosca is completing a Spanish translation of Hamlet On The Holodeck by Janet Murray.
Sweden
The IT-University of Goteburg, Sweden, has launched a new international master's program in Art & Technology. The program is intended for students of all nationalities with either technical or artistic backgrounds (or both), who are working in any genre. The curriculum includes generative and processing techniques for image and sound, robotics, virtual societies, sensor technologies and cross-disciplinary projects and seminars. Application deadline: 15 May 2002. Thanks, Palle Dahlstedt!
Query: Carl-Olof Börjesson writes that "I feel the need to discuss hypertext, preferably with someone in Sweden. So I wish to get in contact with Storyspace users here in Malmö/Lund or eleswhere in south of Sweden or Copenhagen/Denmark. corrected address
Christian Palme contributes an interesting article on hypertext fiction, Boken som Legobygge, to the latest issue of eDN, the technology supplement of Dagens Nyheter. Interviews with Anna Gunder and Michael Joyce. In Swedish.
Next 1.0, in Sweden in April 2000, will feature new extensions of technology in the arts, including a keynote speech by Michael Joyce. Thanks Adrian Miles.
The HyperIsland School of New Media Design in Sweden has a remarkable name. It's located in a former prison.
Switzerland
Adi Blum sends word of Pilgern & Surfen, a new website on hyperfiction and net culture from Switzerland. In German. Thanks, Adi!
New exhibition: Version_2ooo will be held in Geneva from 4 November to 17 December 2000. Symposia will be held in conjunction with the exhibition on 3-6 November. Curated by Simon Lamuniere. Thanks, Linda Thorsen!
Hosted by Davide Bolchini, The Hypermedia Design Pattern Repository is an exciting new hypertext resource. New patterns are eagerly solicited.
Tinguely Concept offers an edgy, intriguing Flash portfolio. For a contrasting aesthetic, see Sneaker Builder. Thanks, Kaliber10000!
Switzerland
Shelley Jackson, author of the acclaimed Patchwork Girl, winds up a week-long residency at the European Graduate School in Saas-Fee, Switzerland. Her article about Tove Jansson, Moomin and Me, appeared in a recent issue of LA Weekly.
United Kingdom
If you're in London, check out The 8-Bit Revolution, "a look at the cult following of the original computer console, Commodore 64 -- its art, music and primitive programming." The event will be held from 5-9 pm on Wednesday, 17 July at Alan Baxter's, Cowcross Street, in the heart of historic Clerkenwell.
Mez (Mary Anne Breeze) is curating Net & Codeworkers Inc[ubation], the gallery associated with Incubation 2002, to be held next week in Nottingham.
John Cayley has released a new, downloadable version of riverIsland, a navigable text movie composed from "transliteral morphs," textual transformations with associated translations. The work is a Hypercard stand-alone application.
Registration is now open for a conference celebrating the launch of Oxford Internet Institute, to be held on Friday, 27 September in Oxford.
The trAce Online Writing Centre invites you to participate in their collaborative Web mystery game/live drama, M is for Nottingham?, created by Margie Luesebrink. While the project is part of the Incubation2 conference to be held in July, it is open to all attendees and writers on the Web. Anyone online can take part on the Web, then at Incubation in July all conference attendees and local participants are invited to help perform the denoument of the drama as it has developed over the previous weeks (costumes optional!).
Don't miss Passing Time, a new Flash piece by dane, commissioned by New Media Scotland.
Lots of new 10-week courses starting up now at trAce. Also new: an online writers' workshop with Carolyn Guertin and Kate Pullinger.
VirtualWriter.net is up and running! The site, which includes a section devoted to technology, kicks off with an essay on hypertext and its critics by Diane Greco. Edited by award-winning poet Paul Perry, VirtualWriter.net is a project of the Longford Library and Arts Services in Longford, Ireland.
The Writer's Craft, the Culture's Technology, a conference focused on hypertext and the Web, was held from 4-6 April 2002 at the University of Birmingham (UK).
Digital artist, theorist, novelist and web publisher Mark Amerika is having his first European retrospective exhibition at the Institute of Contemporary Arts in London. This online show features the release of his new work of digital art, FILMTEXT, a digital narrative for cross-media platforms and is commissioned by Playstation as part of their "Third Space" program.
him by dane has been shortlisted for the Viper competition for film, video, and new media. Visit the Viper competition Web site and cast a vote for him yourself!
Eastgate's Mark Bernstein presented Two Exotic Tools for Hypertext Narrative on 6 November at the University of Southampton.
Peter Shillingsburg presents a paper on Manuscript, Book, and Text: Understanding and a Tolerance for Noise on Tuesday, 20 November at King's College London.
What We Will, a "broadband interactive drama" by John Cayley, Douglas Cape, Wills Morgan, Alex Warwick, Giles Perring and James Waite, will be launched at Platform, 3 Wilkes Street, London E1 on Wednesday, 10 October, 7-9 pm and will run through Saturday, 13 October. Visit the Web site for details.
BBC Radio will broadcast their first-ever interactive drama, The Wheel of Fortune by Nick Fisher, on 19-20 September. The play will also be transmitted via Web-cast, followed by a chat with the author. A preview is already available at the Wheel's revamped Web site.
Award-winning writer, editor, and designer Talan Memmott will give a talk, _Technontology and the [Ap]proximate Other_, at the Clifton Campus of Nottingham Trent University at 2pm on Monday 17th September 2001. The talk is free but please send an email or call 0115 8486360 to let the staff know that you are coming.
Radio Queneau: The BBC's first-ever interactive drama, The Wheel of Fortune by Nick Fisher, goes live on 19 September, at 11:30 pm (London), and will run through 20 October. Listeners are encouraged to post or email their thoughts about the broadcast, and to join a chat with the author. We're told that the interactivity yields several billion possible plays!
On Sunday, 3 June 2001, don't miss Lev Manovich, author of The Language of New Media (MIT Press, 2001), at Lux Cinema, 2-4 Hoxton Square, London N1. Manovich will speak on digital media and its implications for film.
TRS VRS: UK poets take to mobile phones! Check out the article, and links to award-winning mobile phone poets, at The Guardian. Thanks, Simon Shum and Nick Fisher!
Check out The Wheel of Fortune, BBC Radio's first-ever interactive radio drama. On Wednesday 18th April, BBC Radio 3 and 4 will broadcast two versions of The Wheel of Fortune, so listeners can switch between them at key points, effectively creating their own plays. For listeners outside the UK, the website will carry a third stream. The Kitchen's dogged correspondent isn't entirely sure how the interactivity will happen, either on the air or at the website, but the website promo promises 90 billion ways of listening from start to finish. Move over, Raymond Queneau!
New in HypertextNow: Eastgate's Diane Greco talks with Nick Fisher, author of The Wheel of Fortune, the BBC's first-ever interactive radio drama.
"I'm utterly fascinated by the creative tension that arises between interactivity and ournarrative longings. I believe we do have a very deep-seated need for stories in our lives; I personally love good plots and I enjoy writing thrillers. But the fresh opportunities opening up through the new technologies must be explored. I don't view these things as mutually exclusive. As I say, there can be a creative tension where interactivity and traditional narrative and character blend together."
Newsflash! The Wheel of Fortune's broadcast date has been pushed back until September. Watch this space!
An article from the Guardian Unlimited discusses the upcoming interactive radio play, The Wheel of Fortune, and other web-radio ventures.
The Wheel of Fortune was also the subject of an article by Louise Jury in the 28 March 2001 issue of The Independent.
The Wheel of Fortune has been rescheduled for broadcast on September 19-20, 2001. Check the website for news and updates.
The Tate's webart collection features Simon Patterson's strange Flash piece, Le Match des Couleurs. A large selection of color swatches, matched with teams in the French football league. Commentary by Matthew Fuller discusses "the systematic arrangement of the senseless".
Winter Seminars at Oxford's Humanities Computing Unit are scheduled for 10th - 12th January 2001. Topics include Web interfaces for humanities databases, digital texts, and XML. Booking deadline: 11th December 2000.
Check out comfylux.com, a new project from dane, author of help...
"The web site was designed to to work alongside the video project that Robert Richards - a film-maker - and myself are doing in Exeter city centre. This will exhibit videos in stores to mark the return of GMT, for the week of October 30th to November 4th. The videos are silent and experiment with screening time based media over a long period of time. Its a totally different way of making movies and utterly linear. It has been great fun convincing the corporations to screen experimental work, people are very receptive to new ideas when given the opportunity."
In August, trAce celebrated its fifth anniversary ,and September marked the end of a three-year period of start-up funding from the Arts for Everyone Lottery Fund at the Arts Council of England. Sign their anniversary guestbook. Many happy returns!
DRH2000: Digital Resources for the Humanities will be held at the University of Sheffield from 10-13 September. Themes include: the creation of digital resources; their delivery, use and integration; and the impact of digital resources on humanities research and education. Thanks, Adrian Miles!
Registration is now open for INCUBATION: The trAce International Conference on Writing and the Internet, 10-12 July 2000, The Nottingham Trent University, UK.
There's still time to submit a proposal to next year's Computing in the Humanities in Glasgow (July 2000). Matt Kirschenbaum reminds us that "The hypertext community has historically not been particularly well-represented at this venue, but the potential cross-over should be obvious. Last year in Charlottesville we had excellent papers from Nancy Kaplan, Adrian Miles, John Zuern, and others." Thanks, Matt
Hoover UK has a Flash site that avoids many of the common faults of Web animation. Clean and fast, the animation catches the eye and avoids dwelling too long on an effect. Thanks to Pixeljunkie, a designer so famous he forgot to put his name on his portfolio site.
New from Gavin Inglis: Same Day Test, A tree fiction for the Web, illustrated by Paul Shade. Tom. I'm positive. You'd better get a test.
The winners of the Trace Hypertext Prize are Rice, by Jenny Weight, and The Unknown, by William Gillespie, Scott Rettberg, Dirk Stratton and Frank Marquardt. In Rice, Weight creates a interlinked multimedia montage to explore the story of Vietnam. The Unknown is a hypertextual book tour. Congratulations!
Pete Otaqui has announced a new constructive hyperfiction, Work and Play. "a non-linear fiction in the form of a detective story. There is the potential (if you guess right) to add your own page to the story."
Web projects from a the inaugural trAce Workshop for Writers, led by Christy Sheffield Sanford, are now on display.